Coobowie Shop
Coobowie Shop is perfectly positioned only a short walk from our popular caravan park. Darren and his team offer great take-away and dine-in meals from their extensive menu as well as fresh coffee, groceries, hardware, local seafood, ice, bait and tackle. They also have Post Office facilities, visitor information, banking, phone recharge, papers and magazines, along with petrol and diesel pumps!
Ph: 8852 8350 for take away orders
Website: http://coobowieshop.com.au
Facebook: https://www.facebook.com/coobowiesp
Coobowie Hotel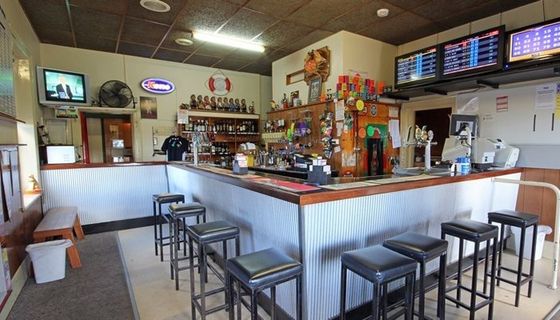 Situated on the Yorke Peninsula Coobowie Hotel is not just a pub and restaurant, we prefer to think of it as a home away from home! Our staff and regulars would definitely agree. We love inviting you to relax and enjoy a meal in the company of friends or family. Our tasty menu is sure to keep you coming back for more. We've got pokie machines for some extra entertainment as well as a courtesy bus so you can get home safely. We'd love to meet you and show you why Coobowie Hotel is the place to be!
Bookings are essential!
Ph: 8852 8143
Website: https://www.coobowiehotel.com.au/
Coobowie Community Hall – Hire Available
The Community Hall recently underwent some upgrades with a new stone fence and entrance, some gabions filled with native plants. There are also quite a number of statues representing the history of the area, with grazing sheep, kangaroos, emu and wombats.  A great place to stop for photos with a lovely park across the road to explore the ketches, sheep trough, history trail and community notice board.
Hall hire is available through Glennis Couprie – Coobowie Progress Association Incorporated or use the contact page on this web site and the message will be forwarded.
Coobowie Corner
OPEN 10am -4pm most Saturdays and Sundays
If you see the sign out, they are open.
Check out their Facebook page for updates and stock news.
www.facebook.com/coobowiecorner
Coobowie Estuary – Bird Hide
At the southern edge of Coobowie, is the causeway and bird hide, with the causeway home to many migratory birds and a key breeding area for fish stocks.  Installed by the local progress committee, the bird hide offers a view of bird feeding at the low water line in the Coobowie Estuary, pick up a bird identification brochure from the Coobowie Shop or Coobowie Caravan Park and become an ornithologist for a while.
Coobowie Surrounds – "Walk the Yorke"
Walk the Yorke provides more than 500 kilometres of a continuous shared walking and cycling leisure trail. With coastal trails & town walks, Walk the Yorke showcases Yorke Peninsula's spectacular coastline, diverse coastal communities and environments unique to 'Yorkes'.
Now in both directions out of the caravan park entrance, Walk the Yorke trail proves to be popular. Heading to the left, will take you to Wool Bay via Port Giles and Hickeys Point. Follow the trail to the right takes you to Edithburgh and around to Sultana Point and it's beautiful beaches, hugging the rugged coastline while taking in the abundant bird life, glimpses of the Gulf St Vincent and the occasional dolphin frolicking.
https://yorkepeninsula.com.au/walk-the-yorke/stansbury-to-edithburgh
Ask a local about 'things to see and do' while enjoying your stay in Coobowie… everyone will tell you to drop a line in and take home a feed of fish.  Crabbing in the hotter months is also done in the bay. Grab a crab rake and catch yourself a feed of blue swimmers.
References:
www.yorkepeninsula.com.au
www.visityorkepeninsula.com.au